Art of Henry
Regular price
Sale price
$ 39.98
Unit price
per
Sale
Sold out
Add this iconic Canvas Print of a Henry original to your collection of art. Adds some brightness and lightness to any room. Henry is Seattle's most prolific muralist and is fast becoming an American art icon.
Custom printed and stretched on wood frame so it is ready to hang and enjoy. Please allow 1 week for delivery.
Share
View full details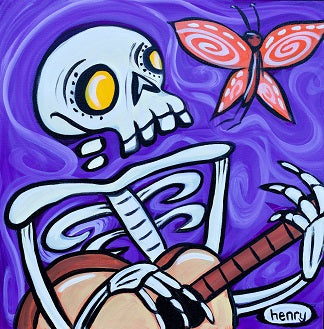 Big Bison Love
This Buffalo is so full of character he has us smiling. His lazy look gets you wondering just what he has in mind.
Another loving, fun painting!
The Nesters canvas painting by Henry is bright, loving and just plain delightful. It will be a perfect fit for our 10-year-old granddaughter's room. Our grandchildren love driving around Seattle looking for Henry murals and even as far away as North Bend! We Love Henry!
Rafting with Friends Five Stars!
This year we purchased Henry art for our grandkids for Christmas gifts. They love watching for Henry's art when we are driving around Seattle, or even as far as North Bend! This Rafting print is saturated in bright color and happy faces on friends.
Love it!
High quality canvas print at a reasonable price
We love henry at my house!
The best birthday gift.
Our son lives in Seattle in an apartment building that used to have a view of original Henry Art on the side of a building. The new owners removed the art when they refurbished the building and the entire neighborhood lost a wonderful installation. For his birthday, we purchased a really great Henry piece and saved it for his last gift. He loves it, and it is his favorite piece of art in his apartment.
Smiling Daughter
Bought this as a move in gift for my daughter's new apartment. Keeps her smiling every day.
Raven Attitude
Love this print!....great rendition of a favored subject....
You gotta get a Henry!
This is a print on high quality canvas. I bought it as a gift. Vibrant, quirky and a singular addition to your art collection!
Sloth stabbed with crystals! Tickles me!
Henry's art is all in fun! Like the his murals sprinkled through Seattle, the Sloth has to make you smile. I was impressed that it was on canvas. The quality is more than good and I love a little bit of 'Western Avenue' Henry murals in my Tacoma loft. I need a t-shirt now!
Gorgeous
absolutely beautiful piece of art. We love it have been moving it around fr the best spot where it is highlighted the best.